Welcome to Kontaani Drumming Group
Update - 16th August 2021
WE ARE BACK DRUMMING!
Our Kukua Weds evening class has been split down into smaller classes to ensure plenty of space between drummers. Masks must be worn whilst walking around, hand sanitiser is provided, chairs and touchable surfaces are sanitised before each class. Doors are left open to encourage air flow. I also currently insist on a lateral flow test prior to each class and certain classes are for double jabbed only due to the vulnerability and personal preference of some of the members.
Thank you for your understanding in these uncertain times.
Marie xxx


Kontaani means 'HAPPY' in the West African language of Mandinka
 
We are an eclectic bunch of lovely folk from all walks of life with one common bond - African Drumming!

There are three main parts under the umbrella of KONTAANI DRUMMING GROUP - The Band (called Kontaani Drumming Troupe), KUKUA DRUMMING GROUP (born on a Wednesday) who meet on Wednesday evenings and the recently formed KUMASSI class (new beginnings/new start) who are relative beginners/improvers who meet on Friday afternoons.
I also run workshops, events and short courses in African drumming.
We don't profess to be authentic 'Djembefola's' but we have a great deal of fun drumming together for pleasure and relaxation. Most of the rhythms we play are based on the traditional music of West Africa which at times we may 'tweak' to fit our ability. That's not to say we don't take our music very seriously!
I started Kontaani in 2010 due to a distinct lack of djembe drumming tuition in the Macclesfield area. Kontaani was born from 4 Langley friends who drummed together on a Sunday afternoon, practising what we had learned during our Thursday sessions with a community group in Leek. We took it in turns to host the Sunday gatherings in our own homes. 
We moved to the local village hall after an elderly neighbour said he thought bombs were dropping on Langley!
 
I opened up our drumming group to any like minded person in the area, or beyond, interested in joining us to just simply DRUM! From the most committed players at the time I formed Kontaani Drumming Troupe - the band.
Kuku has since grown - members have come and gone through the years - some have gone on to more advanced classes but most have stayed. We currently have around 50 members between them and the Kumaasi classes, although not all drum at once!
 
Kontaani, Kukua and Kumaasi are completely secular groups.
No experience is necessary. We welcome beginners to advanced players.
If you have your own djembe please bring it along, otherwise let me know in advance to ensure we have the correct number of drums on the day.

Our open Kukua and Kumaasi classes is on Wednesday evenings and Friday afternoons respectively in Langley:-
 
Drum hire in class is free of charge 

Whilst we are on small classes the current fee is £10 per class but this will reduce as soon as our small classes can get back together again

Weekly fee normally includes refreshments but that is currently on hold due to covid. You are welcome to bring your own beer and wine (it's a very laid back affair!)
Every so often we have a tutored workshop when we invite specialist teachers such as Sidiki Dembele, Iya Sako and Drumroots to come along to train us in new rhythms and techniques.

If you would like to join us please call or email to register your interest,

Our Kontaani performance troupe - the band, train every Thursday evening. The members are already experienced in performing in public and are striving to become a semi-pro troupe. They have been chosen not only for ability and talent, but for complete commitment to Kontaani.  This group is closed to applications.

Our band played our first public 'gig' as Kontaani on the 11th December 2010 at the Langley Review which went down a storm.
We have gone on to play gigs at the Kings Head in Gurnett (supporting Xbvrs), the Church House Beer Festival, Gawsworth Rotary Club Garden Party, Kings Head Music Festival 2011 & 2012, Langley Fête 2010, 2011, 2012, 2013 and 2014. Sutton On Stage, the opening of Cloud 9 Holistic Centre, Macclesfield Fair Trade Fortnight, the Jolly Sailor, Storm Brewery, Just Drop In Centre 10 year anniversary, the Fermain Club open day, Macclesfield Castle Rotary Club Christmas Party and the African Dance Party in Stoke supporting the Beat Artistes!

In 2013 we performed at Snowgoose Live supporting Konkoma, the Cheshire Cheese in Buxton, The Swettenham Arms Bonfire Party and at -
Manchester Airport - under the wings of Concorde at a gala dinner for the opening of the new Air Traffic Control Tower!

Our gigs in 2014 included playing for our friends at Longevity Record Label, we played at Manchester Academy as guest band at the 'Last Band Standing' event and at Lime Bar, Salford Quays, for the opening England match of the World Cup.

2015 Gigs included the fantastic Brothers Tour with Sidiki Dembele (see Brothers Tour tab at the top of the page) which was held at Ronnies Bar and Club, Macclesfield on 27th Feb. We also played with Sidiki at the Brothers Tour Manchester gig in June. Sutton on Stage 13th and 14th March and Winter Musical Extravaganza at St Michaels Church in December.
Later gigs have included playing under Concorde's wings at the opening of the new Air Traffic Control Tower at Manchester Airport and at Manchester Academy 3.
 
We continue to play regular gigs and festivals in the area and beyond - far too many to keep listing!

We play traditional West African Rhythms (amongst others) on traditional West African Drums - mainly djembe, djun djun, sangban, kenkeni and krin.

As the Kukua and Kumaasi classes have become more and more popular we plan to hold regular performances for family and friends to showcase our talents. This ensures all members have the experience of performing to strive towards. However, performing in public is not compulsory.

Drumming is emotive, infectious, healing, meditive, good exercise, a great cardiac workout, socially bonding, great fun, uplifting and damn right wonderful! Try it - You might like it, but then again you might just LOVE it!
 
https://www.facebook.com/KONTAANI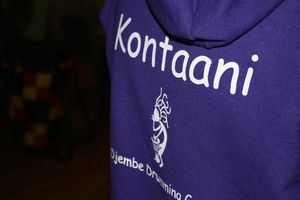 Each of our beloved drums started life as a living tree and a living creature. The djembe's are made usually of goat skin and the dunduns are normally cow hide.
As a vegan I struggle with the idea of using animal skin but I like to think that the animal has not died just to make a drum. It has provided food and milk etc for the people of Africa and the end product has been used to make a very special instrument which brings so much pleasure to many.

With this in mind my drums are very precious and are treated with the utmost respect. Each of my 'herd of goats' has a name and as such will live on, cared for and loved.
I read somewhere that the Griot's thank the tree prior to cutting it to make drums - I hope this is true! I understand that they also believe each drum contains 3 spirits - the spirit of the animal, the tree and the drum maker! So - to all the trees and animals who have given up their lives to make our wonderful drums and to the makers of these beautiful instruments - thank you!

If you are thinking of purchasing a drum - please contact me and if I have not got one suitable for you I will put you in touch with other fair trade suppliers.
Thank you
Marie x