The following 10 drummers play in the Kontaani performance troupe:-
Marie Millward
Founder of Kontaani Performance Troupe.  Founder & Tutor of Kukua Drumming Group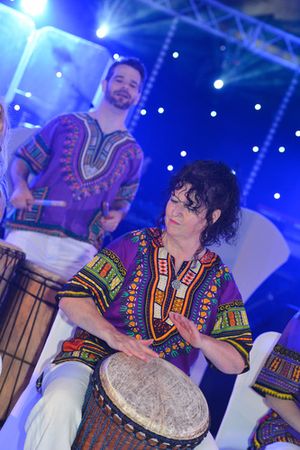 "I have been interested in percussion since primary school.
In my 40's I joined High Peak Samba after breaking my back in a riding accident which forced me to give up riding. I needed something else in my life.
I had a wonderful time with High Peak Samba, finding my new hobby - drumming. Samba was infectious but was not exactly ticking all my boxes. My parents had bought me my first djembe 'Billy' a year earlier but I couldn't find a drum circle in my area. Then one of the Samba players told me about Mandiani - a community drumming group in the Staffordshire Moorlands. I joined in September 2009. I had found what I had been looking for.

"I introduced African drumming to my lifelong best buddy Debbie Kirkup, followed by my great friends Jane Duncan and Miriam Hall.
We used to practice in our own homes together on a Sunday afternoons and moved to the local village hall after an elderly neighbour had thought that bombs were dropping on Langley!"

A few Sunday practises later and KONTAANI was born.


"I have also attend courses and workshops with Drumroots, Iya Sako at the Royal College of Music, Maitre Samsou, Nansady Keita, Sidiki Dembele and in April 2013 I attended the training weekend in Bristol with the King of West African music Mamady Keita".
 
"My present day personal djembe tutor is Jamie Riley of Drumroots - a superb teacher who is highly respected by all. Jamie has a very patient, kind and laid back way of getting the best out of his students".
Our performance troupe are trained on djembe and dunduns by Jamie and Beej of Drumroots - we are very proud to have both of them as our group tutors and we strive to do justice to their exceptional training!
Debbie Kirkup
"I was first introduced to west African drumming by my best buddy Marie. We both played in a Samba band when Marie heard about a community project in Leek that we subsequently joined and that's where it all started. In a fairly short time I came to love playing my djembe and it has grown from then on!! When Marie set up Kontaani, it was another excuse to drum even more (the phrase "taking over my life" springs to mind :)

In 2011 I took part in a tuition holiday in The Gambia, which was an amazing experience and a confidence booster as I tried, and to some degree succeeded, in learning new pieces".

Debbie has also attended courses with Tanante, Maitre Samsou, Scott Jasper, Iya Sako and Mamady Keita. She also trained and played with the semi-pro troupe KAMARA for a few months in 2011



 
Miriam Wilkie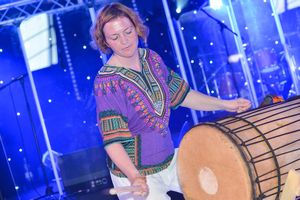 Living next door to Marie meant sometimes dropping everything and picking up a drum.
Miriam and Marie often played side by side over the garden fence in the summer! If one heard the other we'd grab a drum and join in!
Miriam has since moved around the corner and now has two beautiful girls,
 
Kath Ratzko

 
"My introduction to drumming was through my friend Shirley who took me along to the Mandiani workshops in Leek. Like everyone else I was hooked. I was amazed at how the different rhythms fitted together to make an amazing piece of uplifting music. I would arrive at the sessions often tired after work and leave full of energy!

I was also fortunate enough to go to the Gambia with Mandiani and had an amazing time. Drumming on the beach around a camp fire, eating freshly barbecued fish was one of the more memorable experiences. I'm looking forward to going to Drum Camp this year as I've heard so much about it.

Marie has established a wonderful group in Langley. The atmosphere is welcoming and positive and most of all we have a great time. I would encourage anyone who thinks they might be interested to come and have a listen and I guarantee you'll be wanting to join in".
Ricci Downard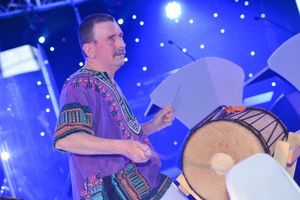 For years I have wanted to own one of those proper African drums and, more importantly, know how to use it. But nobody seemed willing to teach me until a festival in 2010 and the Chai Chapel.

I don't understand why a tea shop wants its customers to play African hand-drums, but I am glad they do. I now own a fine djembe; and the rudimentary beginnings of a technique for coaxing its beautiful language from it. What's more (and this really was a surprise) – thanks to my friend Wendy

I found a djembe circle, who are really good, with proper qualified teachers and everything, in leafy Langley, right next to where I live. Who'd-a-thaut-it?

In my other lives I promote trade justice & 3rd world development & recently retired from working on IT projects at Astrazeneca."


 
Dee Al Asadora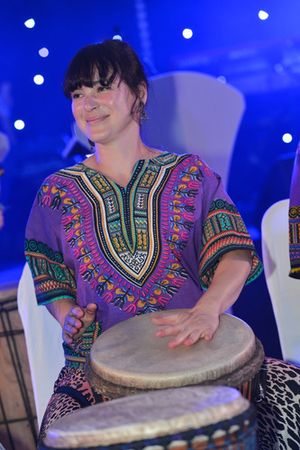 Dee is a wonderfully charismatic and colourful character from Slovakia.
She is incredibly passionate about drumming and dancing which is evident in each of her perfomances.
Dee adds a huge amount of colour and laughter to our troupe and to say we all love her to bits is an understatement!
 
Pete Robinson

 
Pete, a retired air traffic controller, also plays kit drums with other bands
However, he absolutely loves the laid back vibe of playing African drums with Kontaani which is a totally different concept. Pete just grins from ear to ear when performing, he simply loves it.


 
Alisdair Kennedy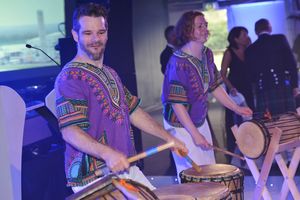 "I first heard African drumming many moons ago on a hot summer's day on Glasgow's Buchanan Street, and from that point on I knew I was hooked. I joined a local djembe group called Partick Beat, and we played our very own eclectic mix of African and funk rhythms at a number of outdoor events. However my drumming life came to a standstill when I moved to Macclesfield in 2007. It was through taking part in the local Barnaby festival in 2011 that someone casually remarked that "oh aye, there's a djembe group in Langley". I couldn't get onto the internet fast enough!! I joined one of Marie's Kontaani workshops, and it's been one of the best things I've ever done. Drumming could very easily be taking over my life!



Lisa Swindells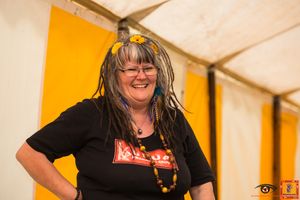 Since the age of 6 I have been drawn to the heartbeat of every song; the drums, as I have always danced. I find rhythms in everything, everywhere. The seasons, the raindrops, our footsteps.
I began with a shamanic drum, but then joined a 10 week beginners' djembe course with Marie in Langley almost 4 years ago. I knew from the first lesson that this would be something that I would continue to do. On the second lesson, I spotted the dunduns and from then on, this was what I had a desire to play. It combines drumming with the chance to dance. What's not to like?
There's no such thing as too many chances to play, in my mind, so as well as rehearsing with Kontaani I attend the Kukua class, and Drumroots. I train with anyone who gives me an opportunity to do so on both djembe and dunduns.
Drumming is already in every one of us who has a heartbeat.
Simon Mayo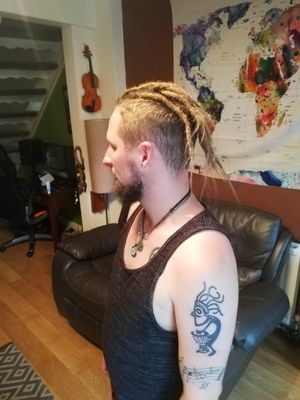 I began drumming at 13 when I took up drum kit at school and fell in love with it, but as time went on and after eventually losing my drums (don't ask) I started to write my own music and focused more on guitar and piano, forming heavy metal bands such as Reign of Sirius & Karma's Puppet. My love of drumming was rekindled after joining the Kontaani Kukua group which really took me back to my drumming roots and where I met Marie and a couple of the other Kontaani guys as well as classes with Leek Afrique, Jamie (Drumroots) and Sidiki. After a while, one thing lead to another and I was invited to join the band. I'm loving every minute of it and despite playing Dun's the wrong way round I think I'm fitting in quite well.